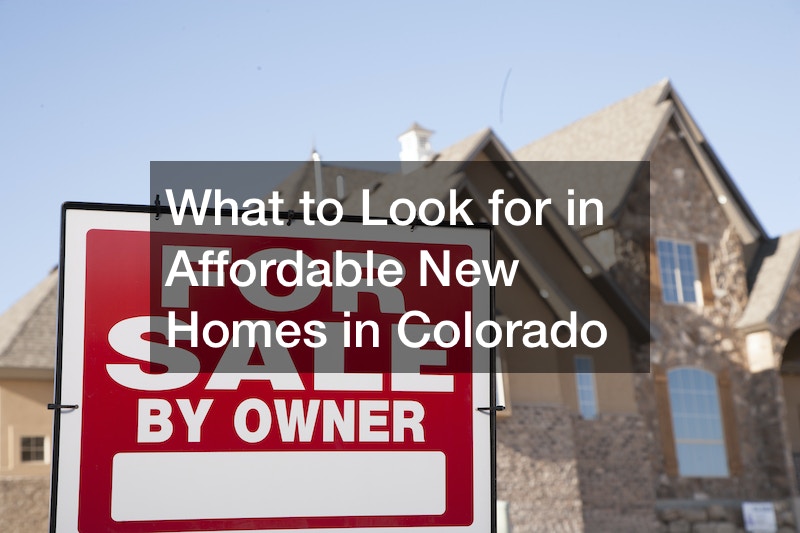 The process of renting or buying a new home is overwhelming, especially if you don't have all the necessary information. When looking for a new home in Colorado, you must be certain about the details to ensure you are satisfied with your long-term investment.
Before you go house hunting, determine your budget and what neighborhood you would like to live in. Zero in on what the important and non-negotiable aspects of the house are. Create a list ranking the elements based on their importance. Consider these factors when looking for affordable new homes in Colorado.
House Size
Before contacting a local real estate agent, decide on your desired house size. At this stage, create a general idea of the minimum and maximum square footage you'll need, plus the number of bathrooms and bedrooms you would be comfortable with.
This decision should be made based on your needs and personal preferences. While a bigger home is better for hosting family and friends, you need to consider how much that will add to the cost of affordable new homes in Colorado.
If you have no plans to start a family within the near future, it is best to keep the size small. Smaller houses are easier to clean and furnish. However, do keep in mind the floor pan you are aiming for to avoid feeling cramped.
Getting the ideal size of the house right will make it easier to factor in extras, such as a sunroom addition. Making a few adjustments in your new home is instrumental in creating a truly personalized home unique to you.
Curb Appeal
When looking for affordable new homes in Colorado, consider the appeal of your front and back yards. Think about how much time, money, and effort you are willing to put into maintenance before you settle on a certain layout. At this point, you need to determine what features are attractive to you and which are available and can be added, such as patio pavers, grills, swing sets, or hot tubs. You can view these features as useful or a liability, depending on your personal preferences.
Check out a few houses before you are blown away by one with over-the-top features. Always keep your budget in mind and do your best to stay within the set limit. If you need some financial assistance to make your dream home a reality, do not hesitate to take on a mortgage loan from the many reputable companies in the market. A lot of homeowners have benefited from these financial assets.
Scenery
Consider the location of a home and the features around it to the horizon. If it rests on a hill, is the view grand, and does this call for more stairs to climb? Look out to the yard from inside the house to determine how accessible it is for pets, children, and gardeners. Be sure that accessibility needs will change over time and plan for them well in advance.
Exterior
Your house's exterior protects the interior from deterioration and external factors such as wind, rain, and snow. Therefore, it is paramount to carry out a home inspection to confirm the type and conditions of material your house is made of.
The roofing system is the first important component to check on when purchasing affordable new homes in Colorado. Many roofs are made of shingles, considered durable for approximately 25 years. On the other hand, a metal roof can last upwards of 50 years before needing a replacement.
It is crucial to ask how old the roof is and to consider how many years of service you can get out of the top. You may be liable for an insurance discount if you're lucky enough to find a house with newly replaced shingles. While you check the roof, do not forget to inspect the gutter installation. Be sure to find out if the gutters are open or covered because they require different maintenance schedules.
Another thing to check for on the exterior is the foundation. Be keen to spot any cracks on the walls, especially around windows and doors. If the doors or windows jam in opening or closing, that should also be a warning sign. To be sure, get a professional to confirm in writing that the house's foundation is up to par.
Bedrooms
Bedrooms are our comfort rooms; their layout will be another aspect to mull over before you can sign on the dotted line. Looking for affordable new homes in Colorado demands that you consider the bedrooms' positioning in the house.
Essentially, you want enough bedrooms to cater to individuals in your household, and you want them to be far away from the noisy kitchen but close to a bathroom. Inside, you need a bedroom that features well-positioned electrical outlets. This is especially important if there is not enough natural light in the room.
Privacy is key in the bedroom, so check if that has been addressed. It is always great to have a wonderful view from your bedroom if you have extra closet space and, of course, if the primary bedroom is ensuite. Lastly, if you can get a house with hardwood flooring options, you are sure to enjoy the warmth instead of cold concrete floors.
Bathrooms
Bathroom renovations are costly so having a good look around to confirm that all systems are running efficiently is the wiser thing to do. First, get permission from the realtor you are working with, and as you inspect the general outlook, test to see how the toilet flushes and open a tap or two to check for correct water pressure.
Check that the fan works, and look for mould in dark corners. Make a mental note of the type of shower or tub in each bathroom. Many affordable new homes in Colorado are beautifully built and might feature a jacuzzi. This is something to look forward to.
Kitchen
Most home buyers are concerned with the size and outlook of the kitchen because a lot of time is spent there. Like other room components, the kitchen can cost quite a lot in renovations, especially if you don't like how it looks.
The countertop is the greatest feature of kitchens in affordable new homes in Colorado. A granite countertop is one of the best alternatives in your dream kitchen. It is durable and resistant to heat and scratches. If you like the layout and think it only needs a few appliances to upgrade, buy the house and remodel it to suit your needs.
Living Room
This room could pass for the most used after the kitchen because we like to relax and get entertained in it. Guests will also spend plenty of time in this room. Therefore, it is important to pay attention to the natural light, electrical outlets and the room's general style.
Take some time to visualize yourself and the furniture you plan to move in to get a sense of the ambiance. The color of the walls can be changed if you don't think it blends in but buying new furniture is costly.
Closets and Storage
Another perk to purchasing affordable new homes in Colorado is the multiple options available in closets and storage space. Compared to old houses, which tend to have smaller cabinets, new homes consider the trends and make room for larger, well-hidden closets. You can always convert a bedroom into a storage space if you need more space to store your sporting equipment, out-of-season clothes, or craft supplies.
Heating and Cooling Systems
The HVAC system in a house contributes greatly to the comfort of those inside and improves the air quality of your home. Unless you have prior training in these systems, you need professionals to check and confirm that all systems are working efficiently. Identifying the kind of heating system installed in your house is important. It could be a gas or electric furnace powered by a forced air system. The cooling system might be a window-mounted or central air conditioning system. Either way, you want to ensure temperatures are evenly distributed across the house for maximum comfort.
Replacing an air conditioning system is expensive, so you have to be sure that the one installed in your house works perfectly. Alternatively, if your budget allows, you can opt to get it replaced or repaired. Whatever you decide, you must be informed of the costs and changes needed to make the house more suitable for your preferences.
Basement
When viewing the basement of affordable new homes in Colorado, confirm if it is finished or requires a remodel. You may want to repurpose the basement as an extra room, so you must be sure if you will or won't need to pump in more cash to get it right. Be keen to spot signs of water damage, stains, mold, or any bad odors. If you have a passion or craft that spends a lot of time in the basement, ensure enough natural light and a working door for easy exits in an emergency.
Attic
Remember to check all corners of the house, including the attic, because you might need it for extra space, and it might harbor pesky rodents that are destructive. Look for signs of mold, roof damage or droppings. Catching these signs early can help you ask for a fumigation service to clear out any concerns at the cost of the real estate agent.
Garage
Based on the house type and the availability of outside parking, you might need a garage or have one at your new house. If this is the case, ensure you test the custom garage door to ensure that it works efficiently without jamming.
For the most affordable new homes in Colorado, you will find them fitted with an automatic garage door which would be a good sign that details have been carefully attended to. For your information, you will be better placed to know if the garage is attached or detached from the main house and if the space is ample enough for your needs and purposes.
Commute
The distance between home and office can be overwhelming for many homeowners and sometimes plays a big role in selecting the ideal home. If this is you, try and find a house not too far from the main road so it can be quicker to jolt home after a long day's work.
Neighborhood Security
Safety is a huge concern for all homeowners and especially if children are involved. Thankfully, many affordable new homes in Colorado have social media communities you can become a part of and learn more about the neighborhood.
You may also carry out an individual search on the local crime rates to make sure that you and your loved ones will be safe there. Another great tip is to walk around the block or streets, checking out the various businesses to discover how the place is.
Local Public Schools and Facilities
Nobody wants to live far away from everyday facilities, especially when you have a family to cater to. Many parents are concerned about finding a public school for their children, where to go shopping for groceries, a local amusement or recreation park, and other facilities like police stations, hospitals, or libraries. The benefit of affordable new homes in Colorado is that these amenities are well within range.
Getting housing in Colorado is convenient and also affordable for most families. With a good financial plan, like a mortgage, you can find a perfect house for you and your family. Ultimately, you will come across advantages and disadvantages. The key is to determine your needs, budget and variable compromises. With that, you are on your way to finding your new home in Colorado.