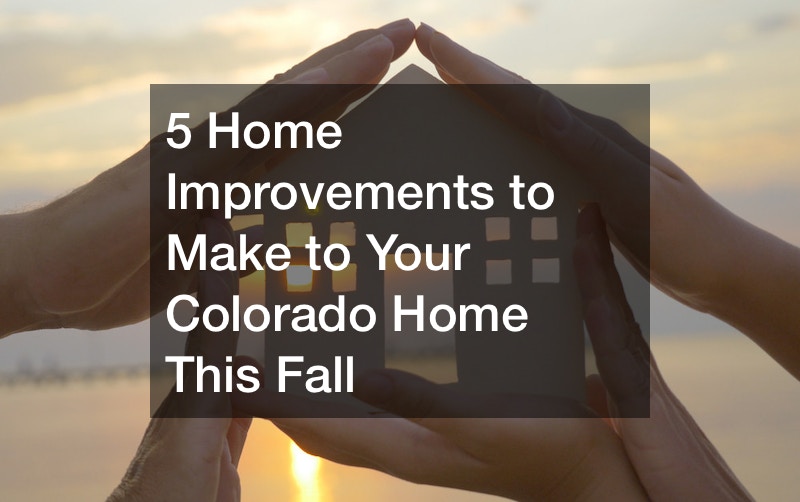 Fall is often an excellent time to complete all your home improvement projects in Colorado, especially if they are outdoor projects. Weather is fair, temperatures are moderate, and service providers are available. So, if you're in Colorado and thinking of giving your home a facelift, start with these five home improvement projects.
1. Kitchen Remodeling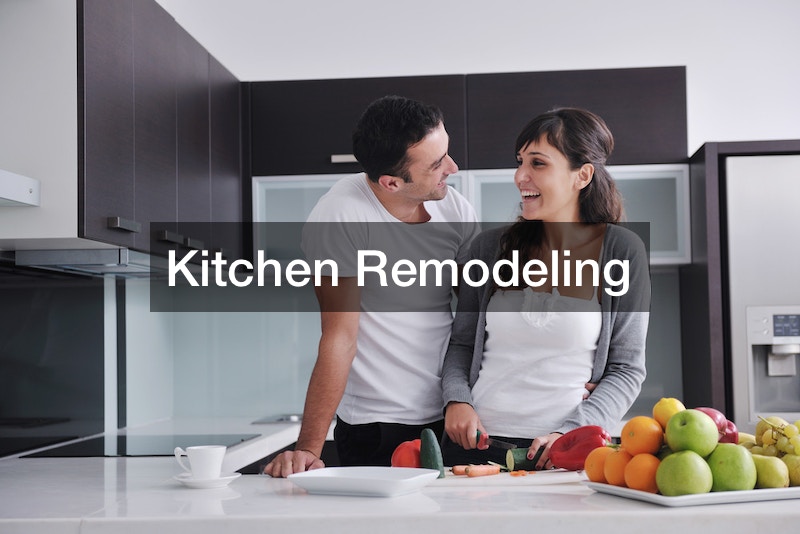 A kitchen remodel is a common and worthy investment if you're trying to increase your home's value and functionality. This home improvement project lets you customize your space based on your cooking and entertainment needs while making your daily cooking tasks more efficient. Also, kitchen remodels tend to have a higher return on investment than any other project. This is important, especially if you intend to put your home on sale. Many potential home buyers will be interested in buying your home if it has a modern and updated kitchen.
Additionally, a kitchen remodel allows you to declutter and keep your kitchen more organized. You can explore customized storage solutions to help keep things in order. Plus, a renovated kitchen will significantly enhance the visual appeal of your home and increase its overall value.
A functional kitchen is more crucial during colder times. Since Fall comes just before the colder months, you want to prepare your kitchen for the months you'll spend indoors. Also, this season marks the beginning of holidays in Colorado. Therefore, you'll want an updated space to host your family and friends during Thanksgiving and other gatherings. This is one of the primary reasons kitchen renovation services are ideal during Fall.
Now you're asking, how do you remodel your kitchen? Which features should you add to enhance its aesthetics and functionality? Your options for kitchen remodeling are endless. For instance, you can decide to customize your kitchen to maximize space, functionality, and aesthetics. Also, you can consider upgrading your kitchen countertops with durable and visually appealing materials like quartz and granite for an enhanced look.
A kitchen cabinet repainting also comes in handy to elevate your kitchen's appearance. If you have old or malfunctioning plumbing and fixtures, Fall is the right time to repair or replace them to enhance your kitchen's functionality and aesthetic appeal. Generally, there's just so much you can do to your kitchen during Fall to enhance functionality, aesthetic appeal, and value.
2. Bathroom Remodeling
Does your bathroom lack functionality or pose safety concerns? If so, it might be time for a bathroom makeover, and Fall is just the perfect time to tackle this home improvement project. Bathrooms can deteriorate over time due to the constant use. As a result, they will no longer serve your needs perfectly, necessitating a remodel.
During Fall, you'll easily find bathroom remodelers to tackle your home improvement project. This is because they are often less busy than other seasons. You might also enjoy reduced prices and discounts.
Your bathroom remodel will involve multiple tasks depending on your needs, preferences, and, of course, budget. You can work with a bathroom designer to create an efficient and aesthetically pleasing layout for your bathroom. This might also involve making your bathroom more spacious. If you don't have an idea of what to do, you can get bathroom remodel inspiration and ideas online.
Your bathroom remodel might also include tile work. This involves installing new tiles on your bathroom floors, walls, shower, or bathtub area. You have various tile options, including porcelain, natural stone, and ceramic. Each of these materials has pros and cons that you must consider before deciding. However, ensure you choose a durable and water-resistant flooring material suitable for bathrooms. If you have no idea about tiles, seek help from an experienced and qualified bathroom contractor.
You can also consider installing a new bathtub and shower as part of your bathroom remodel. Options include freestanding tubs, walk-in showers, and spa-like features. It all boils down to your needs and how much you're willing to pay for your remodel. Don't forget to include bathroom cabinets in your bathroom – they add value and functionality to your space.
The goal of a bathroom remodel is to increase functionality and make your bathroom experience efficient and enjoyable. If you live alone or have a separate bathroom with other family members, you're free to remodel this space to suit your individual needs. So whether you want to create a spa-like atmosphere where you can relax and unwind after a long day or just a simple design, the choice is yours. However, if it's a shared bathroom, you must also consider the needs of other family members.
3. Basement Remodeling
Is your basement underutilized? If so, perhaps you haven't done much to improve its functionality. Therefore, this Fall, it's time to transform your basement space into a more functional, comfortable, and aesthetically pleasing area. Believe it or not, a good remodel can convert your basement into a livable area that can serve many purposes. This remodel will ultimately enhance your living space and your home's overall value.
So, what does a basement remodel entail? Your basement makeover will involve a wide range of changes depending on your goals, needs, and budget. For instance, if your home is short of space, or you simply need a peaceful and quiet place to relax, host parties, or enjoy a game, your basement can take that place. Therefore, you can consider converting the basement into an additional living space, such as a game room, a home theater, or a guest suite.
If you are a work-from-home person and don't have enough space in your house, you convert your basement into a functional and productive home office space. Being a lower level space, a basement home office offers necessary quiet and separation from the rest of the home. This gives you maximum focus and concentration that you won't get anywhere else in your home.
If you're still going to the gym to accomplish your fitness goals, you might need to rethink your decision, especially if space is your only issue. You have a basement; why not transform it into a home fitness area? Just add proper flooring and ventilation, get the right equipment, and you're done.
Since your basement is a lower-level space, it might be prone to leaks, seepage, and other water-related issues. This can lead to mold growth, which may cause health issues such as allergies, headaches, asthma, and coughing. So, if you're planning to convert your basement into an additional living space, consider a wet basement solution such as water.
Basement waterproofing aims to prevent water from getting into your basement. It involves drainage system installation and application of sealant materials. This helps keep your foundation strong and prevent structural damage.
4. HVAC Upgrades
If you're thinking of a home improvement project to tackle this Fall, consider an air conditioning service or HVAC remodeling. This project involves upgrading, modifying, or replacing your home's heating, ventilation, and air conditioning system. The remodel aims to improve the efficiency, comfort, and functionality of your home's indoor climate control systems.
An HVAC remodel may involve improving insulation, replacing outdated equipment, enhancing airflow, and incorporating smart technology. Fall is an ideal time for an HVAC remodel in Colorado because of the moderate weather. Also, you're able to prepare your HVAC system for winter. Remember, a properly functioning HVAC system is crucial during colder and warmer months.
Additionally, if your energy bills are skyrocketing and you're not sure why, you might want to remodel your HVAC system, especially during Fall. This is because a faulty or malfunctioning heating and cooling system consumes more energy, increasing your electricity bill. Also, traditional systems aren't as energy efficient as modern units. So, if you're still using a system made in the 1990s or before, it might be time to switch to a more recent model for increased efficiency.
A heating repair is also part of an HVAC remodeling project. This involves changing the filters and other components to increase functionality. It can also involve sealing your ductwork to minimize air leaks, which can reduce energy efficiency.
Remember, when it comes to HVAC system installation and maintenance, it's best to hire a licensed and experienced contractor. Proper installation is essential for your system's efficiency and longevity. Also, an experienced HVAC contractor will help you choose the right equipment or upgrades. They can connect you with reliable vendors of the same.
5. New Roof Installation
You'll all agree that roofing projects are complex. In addition to everything else, you must consider the weather. There's no way you're going up your roof when the sun is scorching or when it's about to rain. This explains why many homeowners complete their roofing projects during Fall, and so should you.
You see, the temperatures in Fall are moderate, not too cold or too hot. These conditions are optimal for roofing work. Therefore, it will be easier and much safer for your roofing contractors to install your new roof.
Also, since winter comes after fall, you want to ensure that your new roof is ready to shield your family from the harsh climate, including ice, snow, and freezing temperatures. This way, you'll prevent winter-related damage, such as ice dams, leaks, and structural issues. You also prevent costly repairs later on.
Additionally, in Fall, your home improvement project won't face unexpected delays stemming from bad weather. Therefore, the installation process will be smooth and efficient. Remember, roofing contractors don't want to spend weeks or months on a single roofing project. Unfortunately, this can happen due to poor weather.
If you're thinking of installing a new roof, you must be careful when selecting your roofing materials. You can consider various materials, including tiles, asphalt, and slate. Tile roof installation, for instance, is durable, weather-resistant, and energy-efficient. It also has low maintenance requirements compared to some other roofing materials.
If you're unsure about the type of roofing material to install on your house, consult a professional roofing company. There are multiple local roofing companies in Colorado that can advise the best roofing materials based on your needs and budget. However, you have the final say on the choice of roofing materials.
Generally, a new roof can significantly increase your home's value. Whether you're planning to stay in it for a lifetime or sell it, your house will be more valuable with a new, well-installed roof. The roof may also enhance your home's curb appeal and overall appearance. This will, however, depend on the type of roofing materials you buy.
Tips for Completing Your Home Improvement Projects
Now, you've decided to complete any of the above projects. But are you prepared to tackle each one of them? Remember, they are not simple projects. They needed careful planning and execution. Here are some tips to help you complete these home improvement projects successfully.
Define Your Goals
What do you want to achieve from your remodel? Is it functionality, value, or simply aesthetics? Before starting any project, you must have clear goals for what you want to achieve. For instance, if it's a kitchen remodel, you may want to create more cooking or storage space. Having clear goals will help guide your decisions.
Create a Realistic Budget
You'll be spending money, a really huge chunk, depending on the project. You're, however, likely to overspend if you don't have a budget. Therefore, it's important to create a realistic budget that highlights all the costs. Also, ensure you stick to the budget.
Obtain Necessary Permits
Most of the above home improvement projects will require a permit. Therefore, before remodeling your kitchen or renovating your basement, ensure you have the necessary permits to avoid legal issues. If not, be ready to pay hefty fines or even serve jail time, depending on the laws in your region.
Decide Between DIY and Professional Help
DIY projects are enjoyable. You get to put your skills to the test. However, not all home improvement projects are DIY-friendly, for instance roofing. Therefore, if you lack the knowledge, skills, and experience to perform certain tasks, it's best to hire professionals to complete the tasks.
Are you ready for Fall season home improvement projects? You don't have to complete them all at once. Also, ensure you hire the right professionals to complete these projects effectively and efficiently. Good luck!