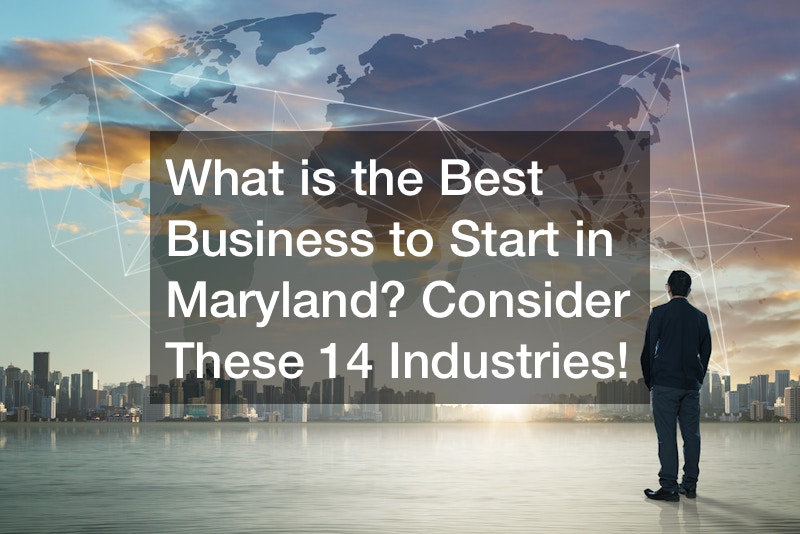 You're ready to become an entrepreneur in Maryland – but what kind of business do you start?
Maryland is a great state for new businesses, with a growing economy and a range of diverse industries that are quickly growing, from IT consulting and car sales to aerospace and aviation or quantum computing. This state is home to technology start-ups, big corporations, as well as small businesses like roofing contractors and moving companies.
So, what is the best business to start in Maryland? Let's take a look at some of the fastest-growing industries and opportunities.
1. Real Estate
Maryland is a great place to sell homes and property. The state boasts a quickly growing real estate market, including profitable metropolises like Baltimore, Annapolis, and Columbia. The proximity to Washington D.C. adds to the appeal. Maryland is a state for social climbers and a place where real estate values continue to climb, too.
There is a hot market for Maryland's waterfront properties, and the state's demand for commercial real estate is rising, particularly in areas with thriving business districts.
Whether you're selling townhouses in the suburbs, commercial office space in Baltimore, or vacation homes along the coast, you can make a name for yourself in the real estate market here.
2. IT Consulting
The technology industry is flourishing in Maryland, presenting ample opportunities for IT consulting businesses to make their mark.
The I-270 technology corridor, the Cybersecurity Association of Maryland, and the Fort Meade cybersecurity community are some of the state's major technology hubs.
Many businesses in Maryland rely on technology to support their operations, creating an ideal environment for IT consulting firms to provide their services. Software development, cybersecurity services, and technology solutions are all in high demand, and the state's proximity to Washington D.C. opens up new opportunities for government contracts and partnerships.
3. Fishing Charter
The sport fishing industry in Maryland is booming, with a growing demand for fishing charters along the Chesapeake Bay and the Atlantic Coast. People come from around the world to experience reeling in a big fish, and there aren't enough charters to satisfy the demand.
If you're a sport fisherman with sea legs, this might be the best business to start in Maryland!
The state offers easy access to fishing areas through its many ports and marinas. You can catch a range of fish species in Maryland waters, including striped bass, bluefish, and white perch. Sustainable fishing practices are promoted through the state's fishing regulations, providing a strong foundation for long-term success for fishing charter businesses.
4. Recycling
There is no better way to future-proof your business than going green. Entrepreneurs may find starting a recycling business a way to turn a profit while working towards sustainability and climate action in Maryland. After all, one person's trash is another's treasure.
You definitely have the support of the government and the people of Maryland. The state has set ambitious goals to reduce waste and promote recycling, and has funded recycling programs. The law requires certain materials be recycled by businesses, creating a demand for recycling services. Maryland businesses also receive incentives to promote recycling, creating new opportunities for recycling companies to find customers.
If you can help businesses take advantage of funding and grants to increase their paper and metal recycling, you might be able to create a sustainable living for yourself and others, too.
5. Construction
If you want to invest in a business that is always in demand, go with contracting and construction. We all need buildings, and they all need repair and maintenance.
If you want to build a new building, you call a parking lot paving contractor and a steel building contractor. Even family homes need a roofing contractor when they notice a loose shingle.
Maryland's thriving economy and population growth offer a wealth of opportunities for the construction industry. The state's construction projects are diverse, ranging from residential to commercial and infrastructure projects. There are niche opportunities you might not think of right away, like seawall services, maintaining the integrity of Maryland's coastlines by repairing seawalls, or a custom pool builder company that serves unique pool needs. You could even start a garage door repair company!
Being close to Washington D.C. presents opportunities for government contracts and partnerships. With strict building codes and regulations in place, experienced and skilled contractors are in high demand, and high-quality construction work is valued.
If high-pressure project management is your thing, and you can navigate the web of red tape in Maryland, the construction industry might be for you.
6. Content Marketing
Do you have creative skills like writing, copywriting, graphic design, web design, or SEO? You could find plenty of clients for a new content marketing firm in Maryland.
Maryland is home to big companies, cutting-edge technology, world-class healthcare, and reliable financial services. These industries are always looking for innovative ways to reach new clients and elevate their brand. If you can get them more attention: more views on their websites, more signups to their newsletters, and more likes and engagement on social media, you have the best business to start in Maryland.
Plus, Maryland's location in close proximity to huge metropolises like Washington D.C. and Baltimore provides access to a massive and diverse pool of companies you can work with. Starting a content marketing business in Maryland could offer countless opportunities to work with a diverse clientele, explore a wide range of industries, and satisfy the growing demand for high-quality content.
7. Tour Guide
Maryland has a lot to offer tourists, and if you love this state as much as they do, you can establish the best business to start in Maryland by creating some amazing Maryland experiences for visitors.
This state boasts a rich and storied past, unique culture, and diverse population that makes it an irresistible destination for tourists from around the world. Whether it is the iconic National Aquarium in Baltimore, the esteemed U.S. Naval Academy in Annapolis, or the historic Antietam National Battlefield, Maryland has an impressive array of major attractions.
If art and history aren't your things, head outdoors! This state is full of natural beauty, from the awe-inspiring Chesapeake Bay to the majestic Appalachian Mountains. You could lead hiking tours, rafting tours, or even pub crawls!
Starting a tour guide business in Maryland could provide opportunities to showcase the state's distinctive attractions and offer visitors an immersive, informative, and unforgettable experience.
8. Translator/Interpreter
Many industries are growing in Maryland, but the fastest-growing professions are translators and interpreters. If you are bilingual, this could be the best business to start in Maryland.
Maryland's diverse population includes people from different cultural backgrounds who speak many different languages. This has created a growing demand for translation and interpretation services in many important sectors, like healthcare, legal, and business.
Additionally, Maryland is home to several international organizations and businesses, creating opportunities to work with a diverse clientele. Starting a translation/interpretation business in Maryland could provide opportunities to work with clients across many different industries, bridge communication gaps between people of different cultures and languages, and foster greater understanding among individuals and communities.
9. Farming
Have you ever dreamed of a relaxing life on the farm?
Maryland has a long farming history, and some great conditions and natural resources, making it ideal for agriculture.
The state is home to numerous farms that grow a variety of crops, including staples like corn, soybeans, and wheat. Maryland also has a growing market for locally sourced and organic foods, making it a resource for consumers who prefer high-quality, farm-to-table produce.
Starting a farm in Maryland could provide opportunities to tap into this market and offer locally grown, fresh produce directly to consumers while supporting sustainable and eco-friendly farming practices. The best business to start in Maryland could be in one of the oldest industries in the country, using traditional, small-scale agriculture!
You might even be able to get some additional funding from the government. The state offers grants and loans to support farming operations, creating an avenue for entrepreneurs looking to establish or expand their farming ventures.
10. Pool Repair
Everywhere there are pools, you can sell pool supplies and repairs. Maryland is home to many homeowners with swimming pools, making pool repair maybe the best business to start in Maryland.
The region's humid climate, plus seasonal changes in temperature, can mess with swimming pools, leading to wear and tear and the need for repairs.
Starting a pool repair business in Maryland could provide opportunities to tap into a growing market for pool maintenance and repairs, address the unique challenges of pool care in the region, and provide top-notch services that keep customers coming back.
Plus, you don't need to compete with DIYers. Maryland has strict regulations for pool maintenance and repair, making it necessary for pool owners to rely on experienced and skilled professionals to keep their pools in good condition.
11. Recruiting Agency
Employers need skilled workers, and talented people need jobs. How does becoming an employment matchmaker sound?
Maryland boasts a diverse and thriving economy with many high-demand industries like healthcare, technology, and government. These industries need talent, which is where you come in. By headhunting suitable candidates and managing the recruitment process, you can create value for both companies and individuals.
In addition, Maryland's central location on the East Coast offers easy access to major cities, making it an ideal location for a broad client base and expanding business opportunities. The best business to start in Maryland might be helping other people hire their best employees.
12. Arborist
An arborist trims, maintains, and removes trees as part of a tree service company.
Maryland is renowned for its stunning natural landscapes, with countless parks, forests, and tree-lined streets that make it a beautiful state to live in. Starting an arborist business in Maryland could provide plenty of opportunities to work with homeowners, businesses, and government organizations to preserve natural beauty while keep environments safe. A green environment is amazing but trees that fall down can be dangerous.
With a climate that's conducive to tree growth and an abundance of tree species, starting an arborist business in Maryland could lead to a diverse range of potential clients and services.
13. Manufacturing
Maryland has a rich manufacturing history, with major industries like aerospace, defense, and biotech that have contributed significantly to the state's economy. If you want to start manufacturing something complex, you're in the right place.
Starting a manufacturing business in Maryland offers an excellent opportunity to take advantage of the state's strategic location on the East Coast and tap into its skilled workforce. In addition, Maryland offers a range of resources, including state-funded grants and tax credits, to support manufacturing operations and help businesses thrive.
14. Graphic Design
Maryland is home to several industries that rely heavily on high-quality visual communication: advertising, media, and technology.
Starting a graphic design business in Maryland could allow you to use your skills and talent with like-minded artists to help clients in these industries create impactful visual branding and messaging.
If you're an artist, you'll be in good company here. Maryland has a vibrant arts community, including several top art schools, that can provide a pool of talented designers to recruit from or partner with, which could help elevate the business's quality and reputation.
What is the Best Business to Start in Maryland?
This state has a wealth of opportunities for prospective entrepreneurs, along with some incredible lures: a great environment, a skilled and competitive workforce, diverse industries, and government support and subsidies.
If you have expertise in any of the industries here, you'll probably discover that this is the best business to start in Maryland for you. Drawing on your own skills and aptitudes can help you find the business that will be most profitable and enjoyable for you to run. However, if you want to dive into something entirely new, Maryland might be just the startup environment you need to break through barriers and create something altogether different.
The best business to start in Maryland is the one that gets you excited, gets you out of bed in the morning, and funds your lifestyle and future. With many different thriving industries, Maryland is the place to make it happen.