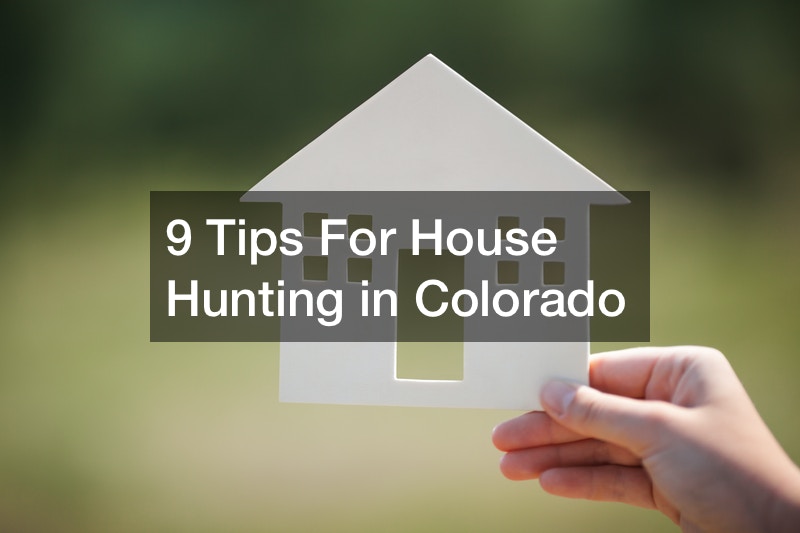 When it comes to learning how to buy a home in Colorado, you don't just want to settle for the first home that catches your eye. There are a lot of things to take into consideration to ensure that you get a home that is not only right for you but worth investing in. To help make this process easier, here are nine tips that you should keep in mind while looking for the best Colorado home for you.
1. Inspect The Outside
When learning how to buy a home in Colorado, the first thing you will want to consider is the exterior of the home. Home exteriors are often overlooked so long as the interior appears to be in good condition. However, this can be a huge mistake, especially since exterior repairs can get quite costly depending on how severe they are.
Be sure to inspect the driveway first. It can be relatively easy to tell whether or not the driveway is in good condition or if you will need to call a driveway replacement company after moving in. If you notice a lot of cracking, either deep cracks or a lot of thin spiderweb cracks, it's a sign that replacement is needed. Preferably you should ask for information about when the driveway was last replaced so that you can get a better estimate of its age. Concrete driveways over 20 years old are definitely at the end of their lifespans.
Another thing that you should be on the lookout for is foundation damage, as this can be an extremely costly fix if you were to move in. If you notice large exterior cracks with a slight zig-zag pattern, this can be a sign that the foundation of the home needs immediate attention. Other signs of foundation damage can be found inside and can take the form of uneven floors, misaligned doors, and cracks in the sheetrock. If you notice any of these issues, you may be better off looking at other homes.
Another area to keep in mind when considering how to buy a home in Colorado is the roof. Because Colorado winters can be quite extreme, finding a home that is in good condition is important. When inspecting the exterior of a home, ask about the last time the roof was replaced and look carefully for any signs of wear or damage such as cracked, broken, or missing shingles. You may even wish to have a residential roofing contractor come and inspect the roof of your potential home if you have any concerns. If you notice any of these signs or if the roof is nearing the end of its lifespan, you will want to think carefully about whether or not repairing or replacing the roof will be something you're prepared to do if you choose to move in.
2. Check Out the HVAC
Moving inside the home, one of the first things you'll want to ask about is the HVAC system. The last thing you want is to move into a home only to find out the heating isn't working in the middle of a harsh Colorado winter. If possible, have a heating and cooling inspection so that any issues can be detected before you decide on whether or not to purchase the home. While not necessarily a dealbreaker, HVAC replacement can be costly, especially right after moving to a new location. Most HVAC units will last between 15 and 25 years. If you're able to find a home with a relatively new unit, this can be a major bonus.
On the other hand, when learning how to buy a home in Colorado, it's worth keeping in mind that many homes in Colorado actually lack air conditioning units, 30% of which are in the Denver area. If you find a home like this, installing an electric AC unit may be beneficial. While AC wasn't always a necessity in Colorado, since summers are getting increasingly hotter, it is becoming more and more important. Although lacking AC shouldn't be an immediate dealbreaker, it is something to keep in mind when scoping out potential homes.
3. Kitchens and Bathrooms
Kitchens and bathrooms are some of the most used rooms in a home, and because of this, they are worth giving special consideration to. When it comes to how to buy a home in Colorado, head to the kitchen first and try to get a feel about how it will work for your cooking habits. If you feel like it is lacking counter space, or if it's hard for you and another person to move around each other, that is something to keep in mind.
You'll also want to consider the materials used in the kitchen. For example, if the kitchen has quartz countertops that are in good condition, that can be a bonus. However, if the countertops are old, stained, and worn out, you'll need to keep replacements in mind if you choose to move in. The same goes for the flooring, as you'll want a material that is durable, nonslip, and easy to clean. If the kitchen has old, outdated tiles, you'll probably end up needing to replace them in the future.
Moving into the bathroom, you'll want to look for any signs of water damage and mold. If you notice brown circular stains on the ceiling, this can be a sign that a pipe is leaking somewhere. Moisture around the base of the toilet can also be a sign that the wax ring is old and it is leaking. You should also check under the sink to see whether or not the pipes below look to be new or old and worn out. If you notice old pipes or, worse yet, water damage under the sink, this may mean that you're going to have to have work done in the future.
That being said, it's likely that you'll want to make changes to these rooms in the future, regardless of whether or not you notice any problems during the tour. Kitchen and bathroom remodeling contractors are commonly hired by homebuyers to ensure that these two rooms can provide everything that they need. Especially since it's unlikely that you'll be able to find a home that has absolutely everything you're looking for right off the bat.
4. Bedrooms and Living Space
When thinking about how to buy a home in Colorado, once you've inspected the kitchen and bathrooms, you'll want to turn your attention to the bedrooms and living areas. Firstly, you'll want to make sure that there are enough bedrooms for everyone in your family and enough space to grow if you are planning on expanding your family unit. For example, if you have two children, they may enjoy sharing a bedroom while young, but once they hit puberty, this is going to change really quickly. Even if you don't have children and don't plan on having any, having an extra bedroom can be important if you plan on having any guests in the future.
Similarly, if you enjoy entertaining, taking stock of the living areas will be important. Make sure that there is enough space to comfortably host everyone that you plan on having over, and take a few moments to consider how your furniture will fit within. If you have a large sectional couch, for example, a tiny living room might end up feeling too cluttered with it inside. If you really want to double-check how things will fit, consider taking measurements of your furniture and comparing them to the space of the room in the house you're touring.
5. Basements
When thinking about how to buy a home in Colorado, you'll also want to check out the basement of the home you're touring, provided that it has one. 59% of homes in Douglas County, south of Denver, have basements. However, basements are less common in other parts, with only 31 to 33% of homes in Boulder and Colorado Springs having them. If a basement is important to have, you'll want to keep these variations in mind.
If you do look at a home with a basement, the one thing you'll want to look for — aside from cracks signifying foundation damage — is signs of water damage and flooding. Basements are one of the first rooms to floor during periods of heavy rain if the drainage system isn't good enough and if you see any signs of water damage you'll want to ask about it. If home water damage cleanup has previously been done on the property, ask whether or not the problem has been fixed, or if the risk of flooding is still there. If the home is prone to flooding, you'll need to consider whether or not the other features in the home make it worth having to invest in these repairs.
6. Consider The Age of the Home
When thinking about how to buy a home in Colorado, it's also important to consider the age of the home you are looking at, as older homes will often need more work than newer constructions. Along with this, older homes will also often have older electrical systems, appliances, and plumbing, all of which may end up needing replacement in the future. Homes built prior to 1989 may also contain asbestos, as up until that time, when it was banned, it was commonly used in housing construction. If you do end up buying an older home, having an asbestos removal company come in and inspect your home can be important to ensure that it is completely safe.
7. Eco-Friendly Features
Colorado is big on going green, and if you are learning about how to buy a home in Colorado, eco-friendly features are something to look for. Not only can eco-friendly, energy-efficient appliances and features help the environment, but they can also save you a lot of money every year when it comes to energy costs. Look for energy-saving appliances, as well as things like EnergyStar-rated windows, which can help prevent energy loss, keep your home more comfortable, and save on your heating and cooling.
8. Neighborhood
Another facet to consider when thinking about how to buy a home in Colorado is the neighborhood where the home is located. If you have children, you may want to research the local school districts or ask your real estate agent about the educational opportunities in the area. Looking for family-friendly activities in the area, such as parks, playgrounds, and community centers, can also be beneficial and it can help get your family more involved with your new neighborhood.
If you don't have children, you may want to consider things such as the closest public transport, grocery stores, and entertainment options. How far away the home is from your place of work should also be considered if you're not planning on working from home. You may also consider looking into the crime statistics of the area or asking your real estate agent about the safety of the neighborhood so that you can have peace of mind that the area you'll be moving to is as safe as possible.
9. Investment Value
Lastly, when thinking about how to buy a home in Colorado, you'll want to consider the value of the investment. While some people enjoy the challenge of taking a fixer-upper and turning it into a home worth hundreds of thousands of dollars, this isn't always feasible for a majority of people.
When looking for the perfect house, you'll want to consider how much it will cost you, as well as how much you're willing to put into it that can further increase its value. For example, replacing the roof, remodeling the kitchen, and updating the landscaping can all boost the value of your property far beyond your original buying price. To help you plot out the best strategy, you should consider working with a financial planning service that can help you set up the best plan for finding the best possible investment.
If you are considering buying a home in Colorado, there are a lot of things to consider. When touring potential homes, keep these nine things in mind so that you can find the best possible home for you and your family in the state of Colorado.