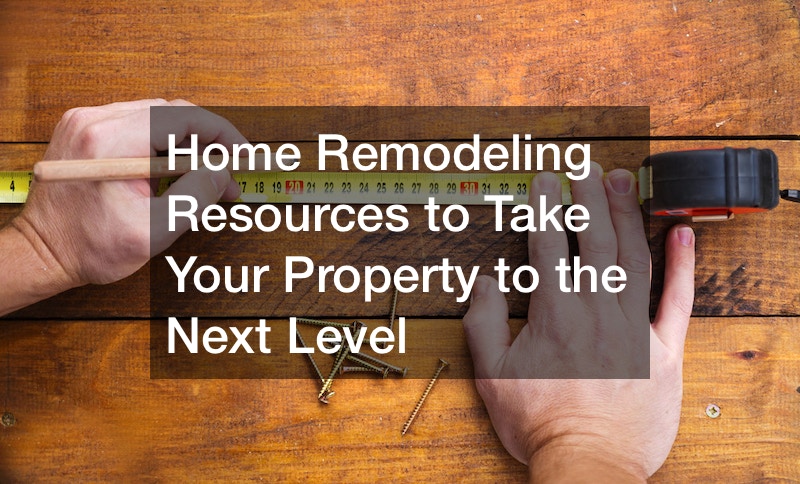 If you have lived in the same property for several years, you may be getting tired of staring at the same old decor and are in dire need of a change. Home renovations are a key step in any homeowner's journey, but they can leave them feeling lost or frustrated when things don't go to plan. If you are looking for an easier way to rejuvenate your house, this article will offer a range of effective home remodeling resources to help you advance your property to the next level.
Signs Your Home Needs Some Remodelling Resources

It Is Full of Old-Fashioned Furniture
Though a few dated pieces can give your home a sense of charm and decadence, too many can leave your home looking archaic and tired. If you have not redecorated your house in a while, you may be surrounded by items and themes that are no longer your style, making your property no longer seem like a home. Over time, these features can cause us to feel a looming sense of regret and dread as soon as we walk through the front door.
The House Is Falling to Pieces
Whether it's a leak in the roof or a plethora of peeling walls, your house can experience a wealth of damage as time goes on. Although some of these issues are completely normal and even inevitable, they can all be signs that your property is in need of some TLC. These problems can also grow into much more serious issues, which can place you and your family in danger if left to get any worse.

You Are Fighting Over Storage
In an age of mass consumerism, we all have a lot of possessions to look after and care for. Yet, some families struggle to keep all of their stuff safe because there simply is not enough room. A few house remodeling resources can help even the most materialistic of families to have more storage options, helping to get all of their items out of sight and out of mind.
Mold Is Starting to Appear
Mold is no laughing matter and is linked to a wealth of serious medical conditions including cancer, respiratory infections, and dermatitis. As such, if you notice mold starting to grow on your walls or in your cupboards, it is paramount that you get in touch with a professional who can quickly resolve this issue. Mold is usually a sign of dampness, which can be caused by various leaks or moisture build-up occurring in your home.

You Need More Accessibility
As we get older, we sometimes need a bit more assistance in getting around or completing our everyday tasks. Thus, you may be in need of a range of home remodeling resources to help adapt your property to your developing needs. In turn, if you are considering adding a stair lift or implementing a wetroom, it may be time to think about an extensive renovation project.
10 Home Remodeling Resources to Take Your Property to the Next Level

1. HVAC
In order to make our properties feel more homely and inviting, we may use our central heating systems to mimic a more soothing environment. On the other hand, we may turn down the heat, if we are looking to cool off after a busy day in the sun. Regardless of how we use it, an effective HVAC system is a pivotal aspect of any working home. Yet, if these systems are starting to fail or deteriorate, they can leave us feeling deeply uncomfortable in our own homes. Thus, it is a good idea to get in touch with an HVAC company as soon as you notice any issues so that a professional can fix them as quickly as possible. As a result, families can now kick back and relax as they revel in the optimal temperatures of their loving homes.
2. Basement Upgrades
If you are fortunate enough to have a basement in your house, you must treat it like any other aspect of your home and provide it with a series of effective home remodeling resources. These spaces can be transformed from basic storage units to lucrative assets, allowing families to enjoy a potential games room or home office. If your basement has fallen victim to any floods or water damage over the years, it is beneficial to install a state-of-the-art basement drainage system. This piece of equipment helps to filter out any water that enters your basement, keeping it safe and dry. Therefore, you can finally make the most of your basement and use it to create a plethora of cherished memories.
3. Roofing
Roof replacements can seem like a very costly home remodeling resource for many, but they can help prolong the life of your property for many years. By completely replacing your old roof, you no longer have to worry about potential leaks or cracks, allowing you to rest assured knowing that your loved ones are safe and sound. A new roof can also help to better insulate the home, which can trap more heat inside your home during colder seasons. As a result, you will no longer have to turn up the heating during the winter, and can work to drive down your regular utility bills.
4. Siding
Siding is a key part of any exterior and relates to the materials that help to decorate and protect the outside of our homes. If you live in a region that is prone to very harsh weather conditions, this siding can become damaged and less effective, putting your home at risk of being destroyed. If you notice that the exterior of your property is no longer holding up to its standards, you should reach out to your local siding contractor for advice. These professionals can guide you on how to maintain your siding as well as the best replacements for your property and budget. Thus, these simple home remodeling resources can help to protect your home for years to come.
5. Art
Art can truly make or break the entire feel of a home, so it is vital that you select the right pieces to really accentuate your property. You do not need to commission a vast sculpture or purchase an original Keith Harring portrait from eBay to help give your home a sense of creative flair. Instead, experiment with smaller pieces such as metal art structures and quirky pictures as they can give your home a much-needed boost in vitality and color. These art pieces can also help you to express the intricacies of your personality and make your property feel like a safe haven that was made just for you.
6. Landscaping
For those looking to give their backyards an elegant rural touch, landscaping can be the perfect home remodeling resource. This process can fill your garden with luscious plants and looming trees, helping guests feel like they are entering a wild paradise. Some homeowners like to add a touch of contrast to their gardens, recruiting the help of landscape curbing companies to help add a selection of paths to their spaces. This can help to make your garden more accessible, encouraging you to spend more time in the fresh air and receive an array of health benefits.
If your property is home to a considerable garden that is teeming with rolling hills and terraces, it is always a good idea to assess the condition of your retaining wall. These structures help to keep a large amount of soil in place, ensuring that pivotal walls can remain sturdy and strong. Despite their relatively simple function, retaining walls are available in an abundance of different styles, making it easier than ever for homeowners to choose a type that best suits their preferences. Therefore, you can feel confident that your garden is in good condition and that the soil is kept exactly where it needs to be.
8. Driveways
Many of us use our driveways on a daily basis, making them vulnerable to a lot of wear and tear. A shell driveway is a great option for those who are looking for a smoother parking experience and are also eager to give the exterior of their home an added element of style. Shell driveways are made from a wealth of crushed-up oysters, clams, and scallops, giving the entire surface a much more authentic look. Moreover, these driveways also work as an effective source of garden mulch, helping to stop erosion and keep your garden thriving and healthy. Therefore, shell driveways are a fantastic home remodeling resource for those who are looking for a change and would also like to stand out from the crowd.
9. Tree Trimming
Although some people would love nothing more than to be surrounded by a selection of immense trees, they can also be a nuisance if they cannot be maintained regularly. If this is the case for you, it may be time to get rid of this issue and contact a local tree trimming service. These professionals can help to remove unsightly trees in a safe and sustainable manner, giving homeowners the prime opportunity to re-design their gardens and appreciate the additional space that this service can offer.
10. Garage Door
Garages are a useful asset for just about any type of home, but they can cause a series of annoying issues at times. These spaces are sometimes teeming with clutter and are vulnerable to a lot of frustrating pest invasions. Decluttering can help to get rid of unnecessary junk, freeing up a lot more space for other projects such as a children's play area or a functional storage unit. If you are becoming tired of constantly shooing away insects from your garage, a garage door screen can help to keep these creatures out whilst still providing an easy point of entry. Therefore, homeowners can come and go as they please without having to worry about being tormented by various bugs.
Benefits of Implementing Home Remodeling Resources
Increase the Value of Your Property
By completing a wealth of home renovations early on, you have a better chance of earning more money when you decide to sell your home later on. These renovations can completely transform the quality of your home, helping to turn your home from drab to fab in just a few simple steps. Thus, you have the chance to earn a lucrative profit when it comes to selling your property, offering you enough money to kit out your new place.
Make Your Home More Secure
We all deserve to feel safe in our own properties and a collection of home remodeling resources can help us to sleep soundly at night. Adding a home security system and securing the entryways to our homes can help to stop predators from coming onto our properties and disturbing our peace. Moreover, these renovations can also support and protect our neighbors, which can help to form a range of tight-knit communities and a wealth of lifelong friendships.
Add Some Functionality to Your Home
Many home remodeling resources can make your property a better place to live, making it easier than ever to complete your everyday routine. By making your garden more accessible and fixing any glaring issues, you can now enjoy every individual aspect of your home, without having to worry about whether they suit your lifestyle. In turn, homeowners can now revel in a home that better suits their needs, making them feel more comfortable in the long run.
Time can put a lot of strain on our homes, putting them in need of a few essential home remodeling resources. Though these projects can be very costly and time-consuming, they have the potential to turn our lives upside down and improve our overall quality of life. Thus, if you are eager to take the next step in your home renovation journey, be sure to follow the advice and guidance offered in this article. With so many home remodeling resources available to you, we hope this guide was able to help to better understand the process.