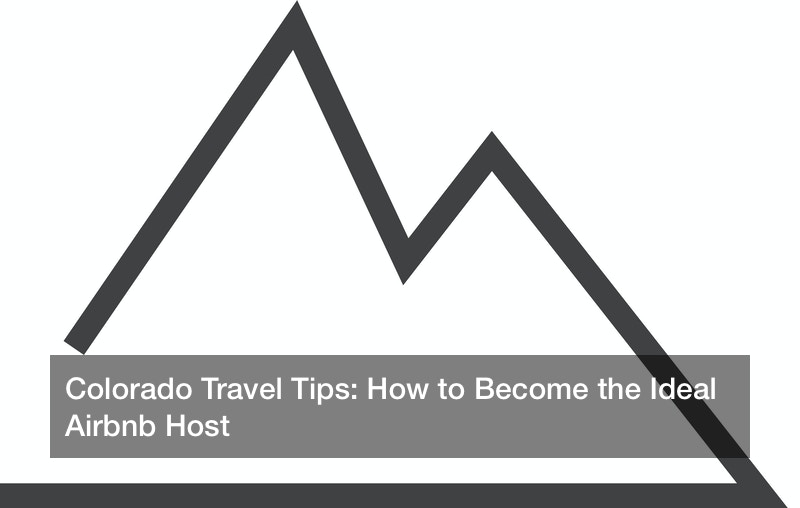 Services such as Airbnb and Vrbo provide travelers with a place to stay and hosts an opportunity to meet people from all over the world and earn additional income by renting out an extra room or home. Today, home sharing services are becoming more popular than ever. After being founded in 2008, there are over 2.9 million Airbnb hosts in the world in more than 191 countries, with 14,000 new hosts being added every month. As a result, short term vacation rentals have become more competitive, and receiving positive reviews has never been more important. Therefore, it is critical for hosts to provide their guests with the best Airbnb experience possible.
Considering the fact that over 5.7 million people live in Colorado and the many tourist attractions in the state, such as Rocky Mountain National Park, Aspen, and Mesa Verde National Park, home sharing services are becoming increasingly popular in the state and Colorado travel tips are in high demand. There are also a variety of vacation rentals options available for all different preferences, such as cabins on the river, farm cottages, and condos. For those who wish to become a proper host, here are a few Colorado travel tips and steps to take to become the ideal Airbnb host.
Getting Started
Before the Colorado travel tips, you will have to get started by determining some basic information regarding your listing, including the type of space, whether it be an apartment, house, secondary unit, unique space, bed and breakfast, or boutique hotel. After that, you will choose the property type. For example, if you are renting a house, you can narrow it down further to a cabin. You will also have to decide whether you are renting out the entire space, a private room, or a shared room. Lastly, you will have to include important details about your listing, like the number of bathrooms, bedrooms, and the number of guests your space can accommodate. Masking sure all this information is entered accurately and honestly is the first step to being an ideal Airbnb host.
Making a First Impression
After you have entered all the necessary information for your listing, taking photos of your space is the next step and the most important step in making a good first impression. Hosts who include professional photos of their space in their Airbnb listing see 40% more revenue than comparable hosts in the area who do not include professional photos in their listing. It is not uncommon that a guest will choose a certain listing over another because of the quality of the images.
Having your photographs done by a professional will maximize your chances of success. In a few cities, Airbnb will actually pair hosts with professional photographers to take pictures to include in their listing. If you do not want to or are unable to afford a professional photographer, you can certainly take these pictures yourself. In this case, you should use your own creativity to increase the appeal of your listing to potential guests. Just make sure you are using a high quality camera, you include pictures of every important space, and the space is clean and tidy. Opening the curtains to allow natural light is one of the best tips for photography.
Knowing Your Local Laws
Before you can officially become an Airbnb host, you will need an understanding of the local laws in your area. Miami, New York City, and Paris are a few of the cities with the strictest laws governing hosting and renting services like Airbnb, while Portland, London, and Amsterdam have some of the laxest laws and regulations. One of the most overlooked Colorado travel tips is to take some time to understand the laws in your local Colorado area. Laws governing Airbnb and other home sharing services are most often a part of a city's administrative codes or zoning laws.
In many cities in Colorado, you have to register with the local government and obtain a permit or license before listing your property and accepting guests. In some parts of Colorado, short term home sharing has been forbidden altogether. Depending on your local government, the laws governing hosting and renting services will vary significantly. As a host, review your local laws and regulations thoroughly before listing.
Determining Your Price
After you confirm your listing is legal, the next step is to determine your price, another important step to being an ideal Airbnb host. Oftentimes, the price will be the determining factor behind a guest's experience. To determine your price, start by looking at similar listings in your area and determine the market value. Airbnb provides a map tool that makes this process a breeze. Here you can find listings that are similar to yours in terms of size, such as the number of bedrooms and baths. Try to find listings that have reviews from hosts who are experienced. Pricing your listing appropriately will put you on the right path to becoming the ideal Airbnb host and making a good first impression with potential guests.
It is also important to be completely transparent about any and all add on fees you may charge. For example, some cities and municipalities require Airbnb guests to pay occupancy taxes and fees, usually anywhere from 9% to 18% of the host's income. Cleaning fees are also commonly seen on Airbnb listings. Complete transparency regarding fees and taxes is crucial to being an ideal Airbnb host.
Determining a Cancellation Policy
One of the most important Colorado travel tips is communication between a host and guest. This is of paramount importance especially when it comes to a policy for cancellation of which there are three different types, strict, moderate, and flexible. For both hosts and guests, cancellations happen often. Be aware that if you set a flexible cancellation policy, which allows guests the option to cancel 24 hours before their stay, you could be left scrambling to find other guests at the last minute and risk losing revenue for that stay. On the other hand, if a host has a strict cancellation policy, this means they will only refund the cost of a cleaning fee in the event that a guest cancels. If anything were to happen outside of Airbnb's cancellation policies, hosts can use their own judgment. Whatever cancellation policy you decide to set as a host, make sure it is thoroughly explained to the potential guest.
Adding a Personal Touch
Once you have completed your listing and have booked a guest, personal interaction will play a huge role in a guest's experience. Upon your first contact with a guest, it is best not to ask about their reason for staying, since it may be a personal matter such as a gathering at a funeral home.
Another one of the most important Colorado travel tips is to know some basic information about your guests before they arrive and be available once they arrive to answer any questions they may have about the living space or the general area. Once a guest arrives, parking is usually the first thing on their mind. Since exotic car rentals are a popular choice for those on vacation, guests often want covered parking.
Adding a personal touch will also help build a personal relationship with your guests. If you are unable to welcome them personally, leaving a note welcoming them to your living space can go a long way towards improving a guest's experience. If you are unable to provide covered parking, you may want to think about installing a partial roof or contacting garage door installation services.
Keeping Your Living Space Clean
Cleanliness is another important factor for being the ideal host and another one of the most important Colorado travel tips. You should maintain a high standard for cleanliness in your Airbnb since your guests will most likely expect it too. Your living space should be free of clutter and dust, trash cans should be empty, and there should be no trace of previous guests. Bathrooms should be especially clean. The glass tiles and shower doors should be spotless.
You might also want to consider having a bathroom drain cleaning after every guest's stay. You probably will not be able to maintain a perfectly clean space on your own, especially if hosting is an additional source of income next to another job or career. Therefore, using a professional cleaning service is highly recommended for Airbnb hosts. This will allow you to focus on other aspects of your property. Considering the cleaning fee that guests have to pay, this will help offset the price of the cleaning service.
In addition to a professional cleaning service, you should utilize every service available to keep your home in great shape. As a host, you may find a need for a landscaper or a bed bug exterminator.
Keeping Your Guests Informed
Before, during, and after their stay, keeping your guests as informed as possible will go a long way towards improving their stay. Immediately upon their arrival and check in, inform them of any rules of the house. Instructions for any house equipment such as fireplaces, televisions, or stereo systems should be easy to find. You should also provide guests with your contact information in case of emergencies. You should also consider explaining the checkout procedure upon your guests' arrival as well.
Helping Your Guests Explore
Oftentimes, guests are looking for hosts to provide Colorado travel tips and act as a concierge of sorts, which can be a valuable service. Airbnb guests are often looking for the experience of living like a local, which they could not do if they were staying in a hotel. Since you will be more familiar with the area, you can provide Colorado travel tips such as restaurant recommendations, the closest store with a dispensary certification, activities, or other attractions. It can be helpful to write this information down, such as recommendations and procedures, so your guests can familiarize themselves at their own leisure.
Anticipating Your Guest's Needs
When you are preparing your living space for Airbnb guests, try to anticipate their every need. For example, if you have amenities such as a fireplace, pool, or hot tub, make sure the proper supplies are accessible, such as towels for drying off. In the bathroom, make sure there are adequate supplies such as toiletries, towels, or hair dryers. In the kitchen, make sure you have plenty of pots, pans, dishes, and silverware. It is best to err on the side of caution and stock your space with more than your guests may need. Since Colorado is a popular hiking destination, make sure the medicare cabinet is stocked with bug spray and medicine needed for poison ivy.
Do not forget to stock the pantries with basic items such as salt, pepper, sugar, flour, cooking oil, and spices. This will give guests the opportunity to prepare a variety of meals if they wish. With all the hiking opportunities in Colorado, guests often look for quick and healthy snacks like protein bars, granola bars, or ingredients for smoothies such as fresh fruit, yogurt, and dried banana powders.
Guests also look for foods that are quickly and easily prepared, pizza being one of the most popular options. All you need to keep in stock is fresh or frozen dough, cheese, and sauce for pizza. Do not be afraid to go above and beyond the basics and supply a complimentary bottle of wine and wine glasses, or breakfast delivered to their room. When anticipating your guest's needs, one of the most important Colorado travel tips is to make sure you have enough of everything to accommodate your entire group of guests. Carefully consider everything your guests may need and make sure it is in stock.
Regardless of whether you are renting out an entire home or a single room in an apartment, you should treat your Airbnb hosting venture as you would any other profession. With these Colorado travel tips for becoming the ideal Airbnb host, you will be able to begin hosting and start receiving income immediately.