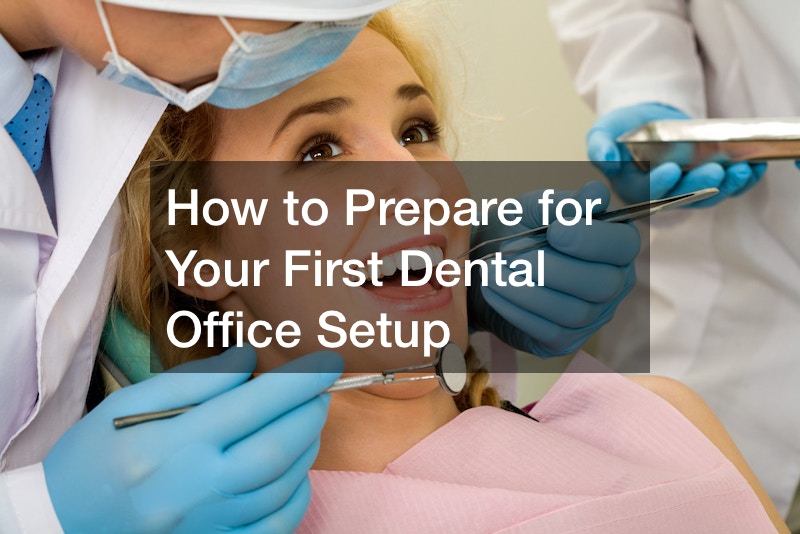 Opening a dental office is an amazing business idea if you're a trained dentist. This is because oral health care is in high demand, with more people than ever before understanding the benefits of things like preventative maintenance. That said, you should try and do it in the right way so that you maximize your chances of succeeding and also avoid a lot of hassle. The right preparation for your dental office setup should leave you ready to welcome clients and serve them to their satisfaction so that they come back in the future and also refer people that they know to your practice. Keep reading this guide to see the steps that you need to take for the right dental office setup so that you can make the necessary preparations and do a good job.

Finalize Your Services
To prepare for your first dental office setup, you need to set off by finalizing your services. Think about all the processes that you're going to do and make plans for them. This involves getting the necessary tools and ensuring that you have the right supplies for each of these services. This way, when someone comes to your dental office for a service that you've advertised, you'll be in a position to do it.
Rather than wait for people to come to your office asking you for services just to turn them away, you need to make sure that you're fully prepared. This is the best way for you to secure your reputation and avoid losing clients even before you start. That said, make sure that you're aware of the current details of all the treatments that you offer, and don't remain stuck on dated practices. If someone comes in looking for orthodontic treatment like braces, it's important that you know about all the possible options for them that exist so that you can allow your clients the luxury of choice.
Gather Supplies
Next, make sure that you have all the supplies that you need for various treatments. Find reliable suppliers as well so that there's no risk of running out at a time when you need something. Form a good professional relationship with them to make sure that you can even get the supplies that you need on credit if necessary. This way, you can keep running your practice quite efficiently. A dental office setup should have all the necessary supplies available all the time. This is because an urgent case may come in, or you might have a hectic schedule that doesn't allow you to go out shopping for supplies.
Come up with an efficient method of maintaining information on your supplies. This way, if something is about to run out, you'll already have an order placed for it long before it's completely done. This way, you can save time and avoid the pressure that comes with having to look for supplies while patients are waiting for you to serve them.

Hire Staff
Your dental office setup wouldn't be complete without a team of qualified and competent staff. These should be well-trained individuals who are passionate about the industry so that they do an amazing job without a lot of supervision. When your practice is backed by such a team, you can be sure that every client who comes to you for a service is sure to come back again and refer everyone that they know to you. Take time to find staff that's trained on modern dental treatments and can offer advice and treatment on them if called upon to do so.
For instance, many people are currently interested in Invisalign services so this is something that your team should be conversant with. It doesn't inspire confidence in people when a patient asks about something only to be asked to wait while the professional they've asked about it confirms it from other parties. This is especially the case for common things that should be at the fingertips of any professional in the industry.
Begin Marketing
Don't forget that without proper marketing, all the effort that you put into your dental office setup may go to waste. This is because you may not have traffic when no one has heard about you. With the current competition, you have to do a lot more than simply sit and wait for clients to find you. For the best results, look for marketers who have worked with orthodontists before. They may be best placed to help you reach your target market and therefore give you a fair chance to grow and expand your service.
The best marketing professional to work with is conversant with modern lingo and has a good idea of the habits of the people that you intend to target. They should also know all about digital marketing so that they can do a good job both online and offline, which is a necessity in this digital age. Make sure that you have something worth marketing as well so that you don't go through the hassle and expense of looking for new clients just to lose them as a result of poor service or some other issue.

Build a Website
As mentioned, competition in this digital age is fierce, and this is the case across all industries. As such, you need to have more than just a physical location with physical signage and branding. You need to have a robust online presence as well. To this end, start by building a website that will be easy to navigate and loads fast. This is going to help you capture and hold the attention of people looking for family dentists on the internet. With attention spans getting shorter by the day, don't take chances with a website that loads at a snail's pace.
Find a professional who can help you build a modern and informative website that's going to represent your dental office setup online. They should be aware of best practices that will help your website rank well, especially in your area. In this case, you can reach a larger relevant market and get the best returns out of the time and money you put into building and maintaining your website.
Inspect the Building
You don't want to start offering dental services in a building that's not safe for your staff and clients. This is the reason why you have to perform an inspection of the building in which you put your dental office setup. This can be made easier by enlisting the help of professionals like a dental office setup roofer. They'll know the details to look for to make sure that there's nothing wrong with the roof, for instance. This is a service worth paying for as it can help you lower the chances that something might go seriously wrong when you least expect it.
Among the things that you need to inspect are things like the presence of toxic fumes and gases, hidden water damage, and problems with wiring or the electrical system in general. Once you're sure that all of these details are well taken care of, you can open your practice confidently. In case anything goes wrong in such a case, it may not be major enough to cause serious harm or damage, and it should not cost a lot of time and money to repair either.

Install HVAC
There's no understating of the important role that HVAC plays in any building, whether commercial or residential. That said, check the HVAC in your building and make sure that it's in good shape. If it has any issues, either fix them or repair them, whichever makes the best financial sense. This is something that you'll better get to the bottom of with the help of your HVAC expert. If they advise you to do a replacement, don't fight their logic as they have a good reason for telling you this.
It's also important that you maintain a good working relationship with reliable HVAC installation services as part of your dental office setup. This means that they should be ready to come over and work on urgent repairs any time this becomes necessary. They should also work on preventative maintenance to make sure that your unit runs as it should all through. In case of an issue, they shouldn't have a hard time figuring it out and remedying it in record time so that your dental offices stay comfortable all through.
Install Cameras
Your dental office setup should have CCTV as part of the security measures that you put in place. This will help both staff and clients feel safe whenever they're in your building, something that will improve your practice's reputation significantly. With cameras inside and around your building, you'll also have an easier time keeping would-be burglars at bay, and so you can protect your expensive dental equipment as well.
Security cameras may not cost you a lot of money to buy and install, and yet the role that they serve is undeniable. They could even help you get great insurance coverage for a reasonably low price. This is because insurance providers will know that your practice is not at serious risk of vandalism or some other issue. This would not be the case if you only had minimal security measures in place.
Hire Cleaning Assistance
Your dental service can further improve its reputation by being spotless and clean all through. To achieve this, you should hire local cleaning assistance. The right professionals should show up like clockwork to wipe surfaces, mop floors, clean wet areas, and generally keep your practice sparkling clean. While this is something that's going to cost you, it's an important expense to cater to because it can impact your rating and business growth.
When looking for a dental practice or other health-related practice to patronize, cleanliness is one of the main things that most potential customers will look out for. Make sure that you get maximum value for your money by ensuring that the cleaning services you get are reliable and have a solid reputation for doing impeccable work. This way, you may not have to constantly tell them what they need to do to keep your area of work looking as good as you need it to look. Shop around to see what different services can offer and also compare prices. While trying to save, however, don't try to cut costs to the extent that you get the worst service possible.
Place Furniture
Finally, remember to place furniture strategically around your dental practice. This should be professional furniture that's easy to clean and is also comfortable to use. There are various spaces for which you'll need furniture, so compile a list or get the help of a professional to make sure that you have all the furniture you need. The best person for the job will tell you the specific furniture that you need in each space. This includes the reception, your office, the waiting area, and the dental center itself where treatments will take place.
You should look out for the best option of furniture that you can get, which may include contract furniture. Don't forget to buy furniture that matches the theme of your dental offices. It should also be modern and sturdy so that you don't have to replace it in a short time, something that could prove to be quite expensive and inconvenient to do. With the right furniture, you can make a positive statement for your clients and ensure that your staff is comfortable all through the day.
With these steps, you can make preparations for your first dental office setup. You'll be ready to open your doors to the public and offer them an amazing experience that they won't be likely to forget. As a result, you may find it easier to scale up and improve your practice, reaching more people and becoming a force to reckon with in the competitive industry of oral health care. While it may take a lot of time and other resources, doing it the right way will offer you an amazing outcome and ensure that you make back every cent you invested in record time.