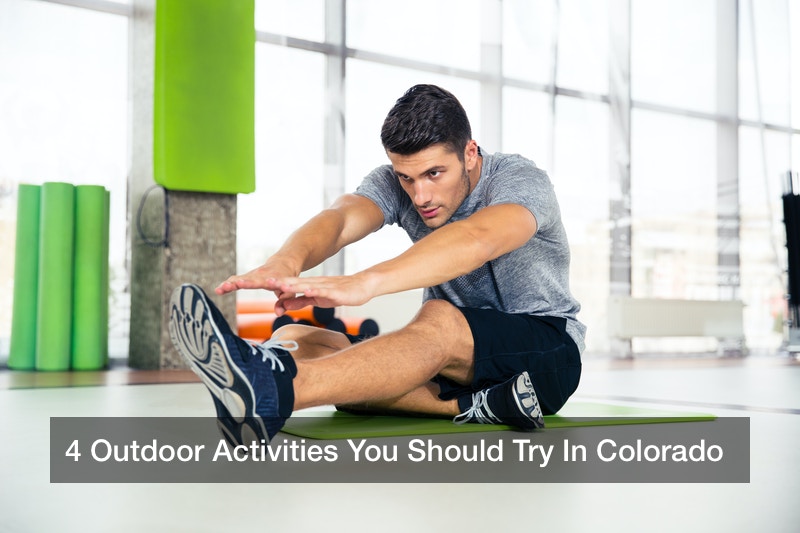 Colorado is one of the most beautiful states in the country. Not only does it provide some of the last patches of natural wilderness in the United States; it also has a number of different landscapes for visitors to peruse. From beautiful mountains to wild desert land, Colorado has a little bit of something for everyone. It's no wonder that it attracts millions of tourists every year! With that being said, as the country begins to open up following the COVID-19 pandemic, a lot of Americans are finding themselves questioning whether nor not they'll be able to go on the summer vacations they planned. Of course, ideally, a lot of people will be able to visit Colorado as they wished; and furthermore, it may possibly be a great alternative to a lot of traditional vacation spots right now. You may not want to go to a crowded beach or theme park in Florida, for understandable reasons. In Colorado, there are already going to be fewer tourists visiting just because it's less of a hot spot. It's also a more spread out state, with fewer massive cities and hubs. It's easy to enjoy yourself in Colorado while social distancing. In fact, a lot of the most fun things to do in the state allow for fun, healthy activities that don't require people to be close to one another.
Most visits to Colorado are built on outdoor activities. People want to engage with Colorado's natural beauty while at the same time staying active and having a great time. You don't have to be a sports fanatic or hugely physically fit to find fun outdoor activities in Colorado. Colorado has actually made something of a name for itself for outdoor activities that can't be found in any other state, at least not together. Where else can you go fishing one day and skiing the next? Furthermore, there are plenty of expert Coloradan outdoorsmen and women ready to help beginners have experiences that they never thought would be on their vacations. If you weren't thinking about visiting Colorado until recently, you might be surprised by how much you can do without going to some major theme park or well-known city.
1. Visit A Dude Ranch
You might be able to go to summer camp anywhere. You may find that you can go camping anywhere. But you can't find a dude ranch just anywhere. These unique business ventures have been around for some time, but they vary wildly in terms of the experiences that they offer. This means that you'll have to do your research before booking a vacation at a dude ranch, but it's actually a good thing. Some of them aren't for the faint of heart, while others are designed for beginners. But what is a dude ranch? A lot of people don't really know. A dude ranch is a working, real ranch, usually focused on farming cattle or other types of livestock. However, they also operate and maintain an income by offering tourists the opportunity to stay in quarters on-site or visit for the day from their hotels, and take part in actual ranch activities. In a world where major companies dominate the food and agriculture industries, it can be difficult for a family to keep a ranch afloat. Agriculture remains a major income source in Colorado, and it's in part because of dude ranches. While a lot of ranchers no longer find it feasible to function in a traditional sense, they're still able to do what they love when they make money through the tourism industry. At the same time, they're able to offer fun outdoor activities in Colorado that can't be found in much of the country.
So what's the appeal? Dude ranches can require a good amount of physical labor from guests, but they don't have to. Like we said earlier, a lot of dude ranches vary in their intensity levels. Some will want you to genuinely work on the ranch; however, if you do your research before booking with a ranch, you should be able to find one in Colorado that matches what you're looking for. After all, some people really do what to understand what it's like to work on a ranch. More "high level" dude ranches might offer you the opportunity to ride along as the ranch hands move a herd of cattle; in fact, some of them offer this as a part of a multi-day experience, and you'll be able to further experience camping by the fire and sleeping on the ground at night. Other ranches might be made for people who want to experience more leisurely versions of fun outdoor activities in Colorado. You might go on a pleasure ride by horseback, or spend the day fishing. Most dude ranches offer food as a part of their packages. You'll be fed a homemade meal on the ranch, and a lot of ranches also feature extra experiences like square-dancing as a part of the night. A lot of the activities offered at dude ranches are seasonal. While you might go tubing in the lake during the summer, the winter might feature sledding downhill. You'll also find that many dude ranches currently feature horse-drawn sleighs which will take you through the snow and lead you to the winter dinner of your dreams. The sky is the limits when it comes to dude ranches, which is why they're such popular purveyors of fun outdoor activities in Colorado.
2. RV Camping
You could go and stay in a nice hotel in Colorado. The state has plenty of them. But staying in a hotel, and in particular, one that is a part of a chain and therefore isn't going to differ largely from many other hotels throughout the state, keeps you from experiencing all of the advantages that come with staying within a state like Colorado. The point of visiting is to experience fun outdoor activities in Colorado; therefore, you might want to give camping a try. With that being said, we're not all born campers, which is why there so many overnight RV parking campsites in the state. These sites allow you to park your RV and otherwise camp as anyone else would. A lot of them offer access to different guided activities, like kayaking and fishing, as well as some that you can do on your own like hiking. Another major advantage of an RV is that even while it places you closer to nature, it may very well cost less than a hotel stay, whether you own your RV or rent it.
Now, you may be tempted to try camping on your own, without an RV. This can be a great option for experienced campers, and there are a lot of beginner-friendly campsites in Colorado. These might offer outdoor bathroom facilities with toilets and showers. However, if you're wanting to really go deep into the great outdoors without giving up creature comforts like air conditioning and your own bed, there's really nothing better than an RV. Another benefit of an RV for beginners is that it's much more secure. No matter how safe a campsite is, you'll still need to be careful about wrapping up your food and ensuring that predators aren't attracted to your site. This can be difficult for beginners who are simply pitching their own tents and trying to do it the old-fashioned way. An RV simply offers peace of mind as well as some level of comfort and luxury. Just because you're trying to experience fun outdoor activities in Colorado doesn't mean that you have to genuinely rough it. There's no shame in taking advantage of an RV and camping the way you want to. Don't feel like you have to do it the old fashioned way!
RV camping also allows you to take advantage of a number of different fun outdoor activities in Colorado. You can go dirt biking if you would like, or perhaps take your camera out to photograph various types of wildlife. It's the perfect way to really get your feet wet in terms of the great outdoors in the state. For that matter, you could very well begin as an RV camper and then eventually move on to traditional camping down the road.
3. Go Fishing
You might not think of fishing as something you would associate with Colorado. However, it is actually one of the many fun outdoor activities to do while visiting the state, and there are several different types of fishing you can take part in while in Colorado. There are a lot of different lakes and rivers open for fishing in Colorado, and you would do well to choose a campsite, should you decide to camp, which will accommodate fishing. If you'd like to visit a location that is both scenic and home to great fishing, the famous Rio Grande is a great place to start. The fish hatches usually take place in June and July, making those months the best time to visit the river. Somewhere a good bit smaller and therefore more approachable, with a great number of trout and particularly rainbows, is Gore Creek, a somewhat small stream. The stream can be fished at essentially any location, but the upper and lower portions are particularly fertile. Should you decide that fly or lure fishing is more your style than traditional fishing, the Frying Pan River offers amazing mountain views and the kind of clean environment that is perfect for those styles. It's another place that is ideal for catching rainbow trout.
If you'd rather not wade out or stand on the side of the bank, you can always rent a fishing boat. While you may not think of boating as the type of fishing available in Colorado, its lakes and reservoirs are perfect locations with still waters that are ideal if you'd like to get out there and go fishing. Consider visiting North Delaney Butte Lake. It's the perfect lake for those that want to go fishing while at the same time relaxing and enjoying a boat ride. And like many other water sources in Colorado, it's full of trout!
4. Motorcycle Trails
When you think of fun outdoor activities in Colorado, motorcycles may not be the first things that come to mind. But just because you're trying to enjoy the great outdoors doesn't mean you can't use your favorite vehicle at the same time. Motorcycles are popular in Colorado, and therefore there are a lot of beautiful motorcycle trails to take advantage of. There are a lot of reasons why you may prefer motorcycling to perhaps going on a bike trail. Motorcycles are a good compromise for those recovering from sports injuries, or even a number of different other injuries, as they require less physical effort.
Of course, if you've never ridden a motorcycle before, you might not want to go looking for a used motorcycle for sale before going on your very first trail in Colorado. You should be careful; there are 10,000 lives lost each year to drunk driving, and motorcyclists are also at risk of being hurt by those drivers. But if you have some level of experience, there are a few trails that you should consider first. The Santa Fe Trail Scenic and Historic Byway is famous for being the path of original pioneers in Colorado, where wagon ruts are still visible. The Top of the Rockies Scenic and Historic Byway, on the other hand, is a little intimidating as it does indeed sit atop the Rockies. However, it's ultimately worth the trouble as it offers some of the best views in the state. While taking part in fun outdoor activities in Colorado, you might as well get some great photos, right?
There are a lot of advantages to visiting this state. Beyond its natural beauty, you can step back in time and experience something that you otherwise wouldn't have access to. Yes, there are a lot of fun outdoor activities in Colorado; however, beyond that, there are a lot of memories to make there too. Don't overlook this gorgeous destination!
More:
10 best places in colorado, 10 best places to visit in colorado, 10 must see places in colorado, 10 things to do in colorado before you die, 12 most beautiful places in the world, 15 co, 15 things to do, adrenaline and extreme tours denver, adventure denver colorado, adventure packages near me, adventure park in colorado springs, adventures near me now, adventurous things to do in denver, adventurous things to do in denver colorado, awesome places to stay in colorado, best activities in colorado, best places to go hiking in colorado, best places to travel to in colorado, best places to visit colorado in october, best places to visit in co, colorado activities in september.