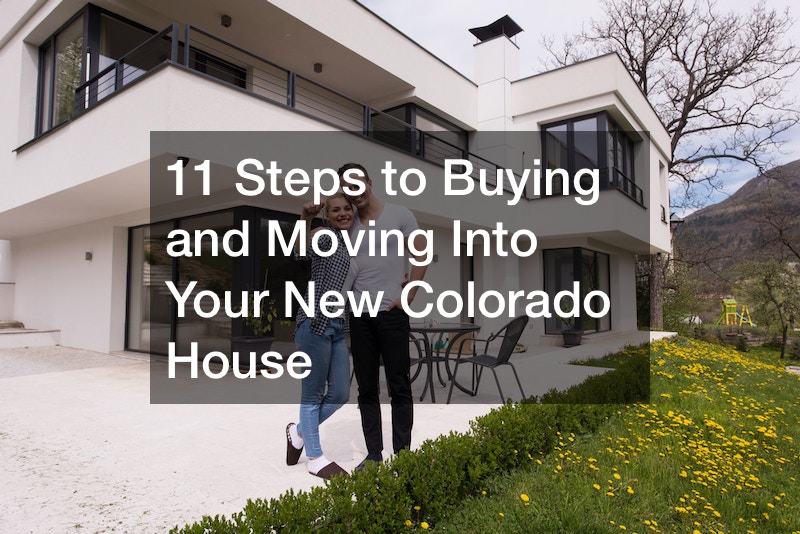 Nestled within the breathtaking landscapes of Colorado, a new chapter of your life awaits—one where majestic mountains and vibrant communities converge to create the perfect backdrop for your dreams. As you stand at the threshold of deciding to buy a house in Colorado, you're not just entering a new address; you're stepping into a realm of possibilities, where each step is a brushstroke in the masterpiece of your journey.
Picture the exhilarating blend of anticipation and preparation, much like the crescendo before a grand symphony. In this guide, we unravel the intricate choreography of turning a house into a home. From the exhilarating hunt for the perfect property to the heartwarming moment you cross its threshold, we're here to guide you through each stride of this transformative experience.
Fasten your seatbelt and prepare to navigate the exciting journey of purchasing and moving into your new Colorado abode. With our roadmap in hand, you're poised to embrace the challenges, savor the victories, and ultimately bask in the unparalleled joy of making a house your very own home.
1. Prepare Your Finances
The initial segment of your home's purchase cost that you settle during the closing process is known as your down payment. This upfront payment signifies your commitment, while your mortgage lender undertakes the responsibility of covering the remaining balance. In the context of Colorado's real estate landscape, it's customary for mortgage lenders to require a 20% contribution of the purchase price as your down payment.
However, the world of down payments is more nuanced than it appears. Diverse pathways await you, each tailored to accommodate your financial stance. Government-backed loans – such as VA and FHA loans – open doors for down payments of 0% and 3.5%, correspondingly, presenting an attractive proposition for those seeking more accessible options. Even within the realm of conventional loans, the horizon is broad; the range for down payments spans from 3% to 5%, contingent upon the lender's specifications.
2. Work With a Reliable Real Estate Agent
When you plan to buy a house in Colorado, you'll need to find the best real estate agent in the area to help you find your dream home. It's best to interview different agents and find the ones that know the neighborhoods you are considering. Then check which ones have experience in your price range and further narrow down your search. Next, get to know the agents a little bit better if you can and determine which ones communicate the best and make you feel most at ease with how they do things.
3. Find Your Dream Home
Once you've found the perfect real estate lawyer and sorted out your finances, it's time to actually start looking at houses. This is going to be a lot of fun but can also be quite daunting, even with the best agent at your side. Give this part of the process as much time as is necessary and don't rush it. The last thing you want is to end up with a home you're not completely happy with and regret buying later on.
You should start your house hunt by looking at the locations you like most and the neighborhoods you'd like to live in. Compile a comprehensive catalog of your home aspirations and arrange them in order of significance. Place the items that hold the utmost importance to you at the pinnacle of the list. This strategic maneuver serves to distinguish between your non-negotiable must-haves and the more discretionary nice-to-haves. Working with your agent, you can gauge the alignment of your desires with the reality of your budget and preferred neighborhoods. This partnership serves as a compass, guiding you to discern whether your aspirations are attainable within your financial boundaries and chosen locales, or if it's prudent to recalibrate your search criteria.
4. Make an Offer
Depending on when you're trying to buy a house in Colorado, you may have to make an offer on the one you want to make sure someone else doesn't steal it from under your nose.
With Colorado's home inventory experiencing an upswing, there's been a notable surge in demand, resulting in houses being snapped up almost immediately after hitting the listings. Given the robust activity in the market, it's likely you'll need to swiftly submit an offer upon discovering a home that resonates with you. Collaborating closely with your agent is key; their guidance will enable you to promptly craft a robust offer, heightening your chances of securing the property. Interestingly, the growing inventory could even present the opportunity for a favorable deal, as your agent taps into the expanding array of choices available.
Once you've stumbled upon a Colorado residence that captures your heart, the next step is to initiate an offer. Your real estate agent, equipped with their expertise, will work alongside you to compose a compelling offer tailored to maximize your prospects of swaying the homeowner toward your bid.
It's important to note that market dynamics shift with the seasons. During busier months, properties tend to get snatched up at an accelerated pace compared to the quieter periods.
5. Do Inspections and Appraisals
You can't buy a house in Colorado without doing proper inspections and appraisals. Inspections and appraisals present a crucial juncture for you to comprehensively assess the home's condition and ascertain its value before finalizing the purchase. Following this step, an unexpected revelation could potentially grant you a window to revisit the contract's terms with the seller, fostering flexibility in the negotiation process.
Appraisals serve as the compass for establishing the property's value. If you're utilizing a mortgage to acquire your new Colorado abode, your lender will initiate an appraisal to verify that the home's value aligns with the loan amount. Enlisting a licensed inspector to thoroughly assess your Colorado home grants you a shield of assurance, offering insights into the property's condition prior to committing significant financial resources. You may need a proper pipe inspector to make sure you don't need a whole house repiping. Also, don't underestimate the value of land surveying.
While Colorado's disclosure regulations hold stringent, an extra layer of caution never hurts. Opting for supplementary inspections can unearth any latent concerns that might otherwise remain hidden. If a recent radon test hasn't been conducted by the seller, consider arranging one promptly. Given radon's silent intrusion and toxic nature, it's a prudent measure to ensure your potential home is a haven of safety. Furthermore, regardless of a home's appearance, a swift mold inspection offers a safeguard against concealed health hazards, casting a discerning eye over the well-being of the residence you're on the cusp of calling your own.
6. Close the Deal
Before you buy a house in Colorado, an important step involves conducting a last-minute walkthrough alongside your agent. This serves as a safeguard, ensuring that the property remains in the anticipated condition. The closing process in Colorado is commendably straightforward. As you convene at the title company, a series of documents will await your perusal and signature, culminating in the seamless transfer of property ownership. With this step accomplished, the curtain rises on the moment when you settle the closing costs, marking your official entry into homeownership.
Prior to affixing your signature, dedicate time to meticulously review and comprehend each document. These encompass essentials like the final loan application, the mortgage promissory note, and the deed. Collectively, they pave the path for a successful property transition into your name. Should queries arise, don't hesitate to seek clarifications from your agent in the lead-up to the closing date.
Once the paperwork is fulfilled, the culmination involves discharging your closing costs, which encompass a range of charges encompassing lender fees, prepaid expenses, and title and escrow fees. This process is a definitive stride toward your homeowner identity, punctuating your journey with the assurance that every detail has been attended to, ensuring a seamless transition into your new abode.
7. Don't Forget About Property Disclosures
When you buy a house in Colorado, you need to remember the importance of property disclosures. Under Colorado law, sellers are mandated to transparently unveil any known defects or concerns that might impact the property's value or safety. These disclosures encompass a spectrum of details, spanning from the home's structural robustness to the potential presence of hazardous substances. Noteworthy repairs or renovations undertaken are also part of this disclosure package. Furthermore, in adherence to Colorado's legal framework, sellers are obligated to divulge any identified water or mineral rights linked to the property – a pivotal consideration, especially in specific state regions. Typically presented during the due diligence phase, these property disclosures serve as a cornerstone of transparency.
8. Find Out About HOAs
If you want to buy a house in Colorado, you're going to have to remember that homeowner associations exist. Colorado boasts a substantial proportion of homes affiliated with HOAs – about two million homes are associated with one. This trend is influenced by the state's rapid population growth and the allure of planned neighborhoods, complete with amenities like pools, parks, and community hubs. They wield authority over various aspects, spanning paint choices, lawn maintenance, and parking regulations, and non-compliance can lead to fines and penalties. When contemplating a home purchase in Colorado, it's crucial to account for the guidelines and dues linked to the HOA, as they can wield considerable influence over a homeowner's way of life and financial matters. Remember, there are many fees, fines, and penalties involved so make sure you know all about them.
9. Clean Your New Home
Once you buy a house in Colorado, it's essential for several reasons that contribute to your overall well-being and enjoyment of the space. Even though the previous owners might have cleaned before moving out, it's still wise to give the house a thorough cleaning. This helps eliminate any residual dust, allergens, or potential contaminants that may have been left behind. Cleaning allows you to start with a fresh canvas. As you move in, you'll likely want to put your personal touch on the space by arranging furniture, hanging decorations, and organizing belongings. A clean environment provides a better foundation for these personalization efforts. If you're not in the mood for cleaning, hire local house cleaning services to sort things out for you.
10. Renovate and Repair if Necessary
Renovating and repairing your newly-bought Colorado home is a strategic investment that brings a multitude of benefits, enhancing both your living experience and the long-term value of the property. Renovations and repairs allow you to tailor the space to your preferences and needs. Working with a painting company will allow you to create a home that reflects your style, enhancing your comfort and enjoyment of the space.
Older homes might have outdated features or systems that require upgrading, such as the HVAC. It may even be necessary for a new HVAC installation. And don't forget about the exterior that may need attention such as asphalt repair.
11. Move In
Once all the technicalities have been taken care of, it's finally time to move into your home. You will have all the joy of decorating your new place and moving in your favorite furniture. If you have some space that needs to be filled, visit the local furniture stores and buy new pieces to make your place look as awesome as it can. When you buy a house in Colorado, you're starting a new chapter, and moving in is the first step you'll take. Don't forget about your safety, and invest in systems to keep you protected. You may have to team up with a local house security company to ensure you get the latest and best tools for protection.
And there you have it, all the info you need to buy a house in Colorado and move in successfully. From scouring the peaks and valleys of the Colorado housing market to finally unlocking the door to your very own Rocky Mountain paradise, you've traversed the scenic route to homeownership with finesse and flair. As you settle into your new Colorado casa, remember that you're not just nesting amidst stunning landscapes and crisp alpine air – you're planting roots in a vibrant tapestry of communities, where the spirit of adventure is as boundless as the mountain horizons. From neighborhood potlucks to snowball fights in the front yard, your new home is poised to become the canvas for countless stories waiting to unfold.